Decorating the mantel in our home as always been the equivalent to hitting a brick wall in the creative dept. It's direct vent gas fireplace, so no technical chimney... there's a window instead. Doesn't sound that bad until you try to decorate it.
How it used to look 9 mths out of the year (except we've added sconces since this pic)... *yawn*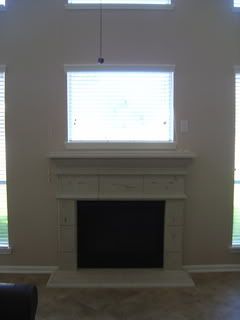 Then I decorated it for fall...
Then Christmas...
And thought what the heck, lets see what I can do for a "Winter Mantel"...
Tried to get some pics during the day, but this window just really complicates things!
My source of inspiration (besides all the wonderful winter mantels I was seeing all over bloggyland) was to think of my new region and how winter is here. Besides my few years in Atlanta, cold harsh winters was all I ever knew. So "Texas Winter" in my mind is pine cones, sand, rocks, yet still bare branches, a little warmth and a touch of green yet (but I couldn't figure out how to work that in). Right now that picture is there for the frame & matting, hope to replace it with a more relevant picture.
OH and I feel some mama guilt for not posting pics of the boys lately... so here they are! This is as good as it gets trying to get a picture of them together! This is when we went to the zoo at the first of the new year! Gotta love that, going to the zoo in the winter in short sleeves!