I was thinking not too long ago that I need a spring version of a shrug or open front cardigan. Then thought, why not a tshirt cut open in the middle. Keeps it casual, knit is easy to cut and heck doesn't even need sewing!
I've had my eye on a green old tshirt of mine. I figured I'd just need my scissors, pins, and measuring tape. I worked it all out in my mind (my very basic non sewing mind, need I remind you)... this morning I just decided to do it! I figured if I got into too much trouble that perhaps my sewing-phe-nom friends Ellie & Kate would possibly bail me out??
This was all done amongst a train going across the table I'm working on, a dinosaur chasing said train (or sometime catching a ride!) and some screaming. Nothing like a project in the midst of commotion and craziness... wait... that's ALL my projects ;) Luckily it didn't take more than 10 mins, maybe 15!
My 6 year old Old Navy shirt. I don't really like to wear logos anymore and it's a bit shorter than I like to wear now, but I liked the color and the fit around the arms.
Turned inside out (I would love to find a shirt that I could turn inside out as the finished product, the seams adding interest)
I then measured in 5" on the sides (guess-ti-mating to the neckline) but could of gone 6" and left more coverage.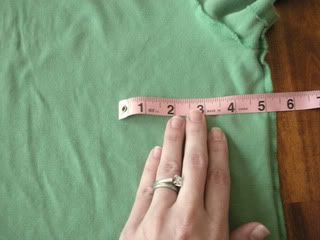 Pinned a few times to help guide me as I was cutting. I could of (um, should of!) used a pen to make it straighter but I wanted to wear it this morning and didn't want to worry about leftover pen marks. I mean I'm wearing a cut up shirt out as part of my outfit, why add pen marks as well ;)
Cut up one side and up the other (I would never make a good surgeon! It'd be a jagged mess!)
Obviously you could really vamp this up with some a little sewing, ribbons, add-ons, biased, I'm sure the list goes on. But for a simple thing to throw over a tank during this hot/but yet not hot weather... good to go!
Goofy awkward self-pics are always required to show the final results! (oh look you can see the
scrap fabric bracelets
I made a while back too).
What do you think? Are you going to make one?