Another Easter away from family, and we would be sad if it wasn't for another easter made perfect by friends!
Jake and I dyed eggs the night before....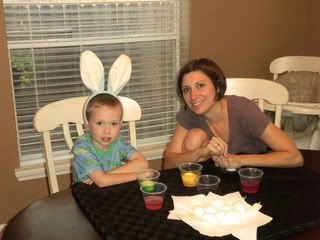 Then they found their baskets in the morning! The Easter bunny was getting them prepped for the beach!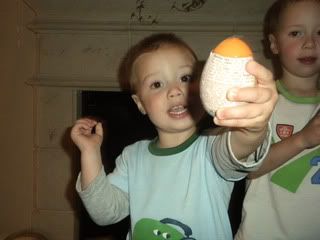 And of course it's not Easter without a chocolate bunny the size of your head!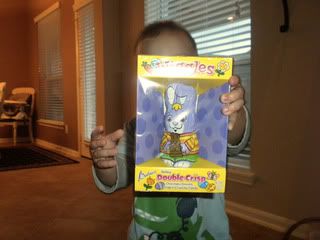 Then some friends came over for a nice family brunch! We had yummy food.... biscuits & gravy, sausage, an egg & spinach stratta, hashbrowns, fruit salad, and cinnamon-sugar pull apart bread.
Had an egg hunt for all the boys! It was the Easter of the Cascarones! It's good luck to have one broken over your head. If you have no clue like I did as to what they are, read
here
. It's popular down here in these parts!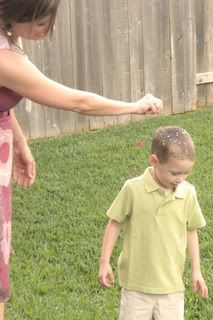 Okay, big mommy confession here (and we have photographic evidence!). It shows on the packaging, you can smash in on your head.
So that's what I did to poor Evan, and the egg DID NOT break... we all heard a "thunk" that echoed in the backyard! Everyone is all "you crack it first in your hand!!".
...

Ohhhhhh

.....
Let's just say Evan will probably have some fear of eggs near his head for the rest of his life. The look he gave me was so sad :( But after that, he did enjoy finding them and smashing them in his hands!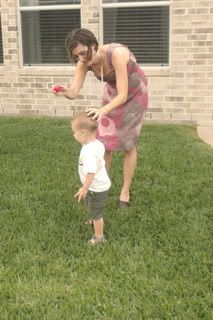 Tried for a group shot of the kiddos... Evan's new thing is to run from the camera. So this was as good as it got! He took his egg and ran ;)
Couldn't get a family pic (due to Mr. Evan) but Ellie was nice enough to take a few other pics (in fact half of these pics in this post are hers! Thanks girl!).
This handsome little guy is Ellie's. Him & Jake share the same birthday, just 3 years apart. They always really enjoy each other!
After all that it was naptime! Whew!
Later that afternoon Greg went to the gym (where he said there was almost no one there!) and the boys and I took a hot walk (well, they rode their bikes) to the park. Then we came back home to eat our brunch leftovers for dinner!
"Let us be grateful to people who make us happy, they are the charming gardeners who make our souls blossom"