For Christmas I was a lucky gal and received my very Kitchenaid Stand Mixer! Woo-hoo!!
Since then, I've been trying to find a good home for it in my kitchen. I had thought "oh, I'll just store it in my pantry"... but um yah, that was before I had it... it's not really light enough as something you want to lug out each time you want to use it. Plus, the mixer is kind of like a decor item all on it's own.
Now the perfect scenario would be to get some custom cabinetry that it stores in and then pops up to counter level.
But that's just not going to happen around here right now.
So it needed a home on the counter. I don't like stuff on my counter. I feel with the paper towels, napkins, dog treat container, fruit bowl, the phone, the charging station, and the knives are enough!
I played around with it, and quite honestly I wasn't happy moving things at all. It feel "wrong" to do. Finally came up with an arrangement I could live with then found it I had to add "something else" to the counters to help balance it out. Unfortunately, I have no before and afters as I was rushing to do this before company arrived!
But here's the finished arrangement. Does it look okay?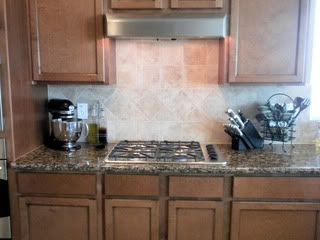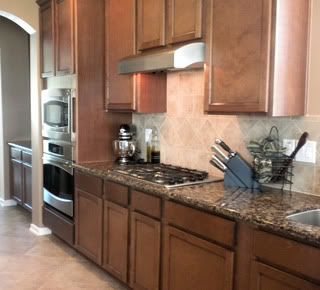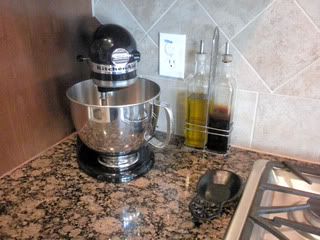 I had to add in the little caddy thing with napkins & wooden utensils to balance out moving the knife block. The knife block used to be in the corner I moved the mixer too... there's really nowhere else to put it that makes sense. Is it too much? Does it look dumb? Does it need tweaking?
I still find myself putting stuff back in the wrong place... especially when I'm in the cooking zone! But I think that corner is the best place for the mixer! Thanks for visiting!