Thursday night I hosted a Moms Night In at my house to make tshirt necklaces (
you know how much I love them
!). It's so easy to do... just cutting up an old tshirt you can't wear anyway! It was a fun night and I was up way past my bedtime ;)
Yesterday I was picking up all the scraps and "tops" of the shirts that were used... there was a little bit left on each. Made me think of putting them all together for a multicolored one. Jake has a little friend who is celebrating her 5th birthday on Saturday and we don't have a gift for her yet... ooooo how about a necklace for her?!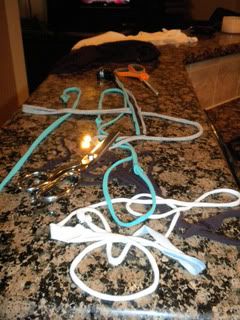 So I whipped one up... made it a little more sturdy that any of the ones I've made for myself, and a little more fun! My apologies for the dark/flash pics... I got this wild hair after the sun went down!This mainly based of
this tut I watched on you tube.
First I braided some scraps together for the part of the necklace that goes around the back of the neck (colors used: aqua, gray & a deep purple). I used a chip clip to hold one end while I braided the pieces together. Then clipped the other end to hold it until I was ready for it.
Then I figured out what scraps I'd use for the necklace and put some white wooden beads on them. Staggering them in length to layer just right when worn. This involved more cutting and some sewing than I have yet done.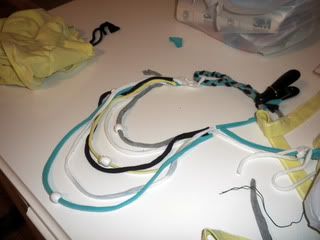 But basically I just hand sewed each end of the braided piece together. Then each end of the necklace piece together... and then both pieces together.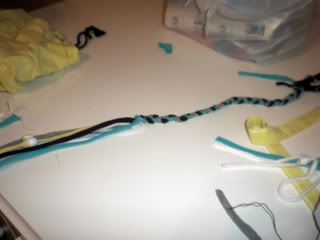 Jake helped me out as being my model when I needed to check how long it needed to be or to see how it looked :)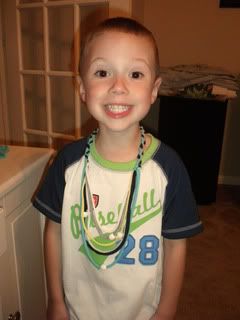 I used some of the seam of the yellow shirt (about an inch & a half) wrapped around the joint of the necklace. Making a 'seam', then turn it "inside out" while on the necklace so that it covers the joint and it's own seam as well.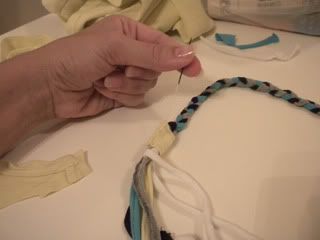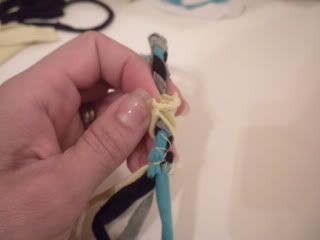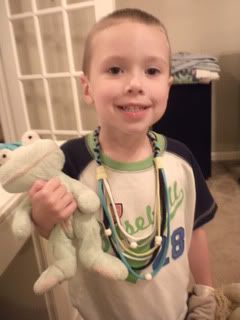 We like it! Hope she does too! Jake and I have quite a morning together... the library, Target, and her party!