Yesterday the boys and I were outside, I was checking out all of our plants & bird related things. Thought I share with you my assessments.
I'm an 80 yr old in a 32 yr olds body when it comes to my birds. I love bird watching and seeing them visit the yard...
I've talked about all that in depth before on here
.
We'd love to do major landscaping in the backyard. Quite honestly though, since we never know when we may be transferred with Greg's work, it just doesn't seem worth it. It would make me sad to plant a tree in the hopes of watching in grow and the kids playing around it over the years.... only to leave it 6 mths later.
So I've made due with containers and planters! Things we can take with us!
First I checked out the bluebird nest box. Last year I had lots attempt nests, but never stay :( This year I thought we had some takers, but still it's a no-go. So time to clean it out in hopes of another pair coming along and building a nest! It makes me happy whenever I see a bluebird (pic of bird not mine)!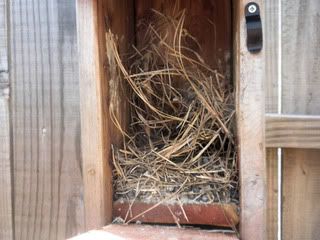 What one should look like (not my pic)...
Then in this corner is my feeder central. Not very pretty but it gets a lot of action. I'd love to rip up the grass, put down mulch and some bushes and flowers. For now it just looks like this:
I love that I get hummingbirds here. Funny thing is I even get House Finches that love to drink out of the feeder too (not my pic)! The cardinals and the chickadees love the feeders!
On to the plants!
Last year I put morning glory seeds in the ground next to on of our patio columns
. Numerous times Greg got too close to it with the weed eater, so I thought I'd try them in pots this year. Planted some petunias up front and morning glory seeds in the back with a little trellis. Have this so far: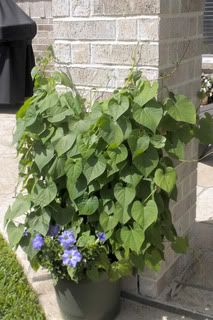 Haven't decided if this was the best idea yet. Thinking maybe a pot wasn't such a good idea. I'm already having to water them 2 times a day... what's it going to be like when it's even hotter?? The other reason I thought it was a good idea was because when Greg took the whole thing down last Nov (when I was gone, I knew I wouldn't be able to watch) he said they didn't have much in roots at all.
So we'll see how the pots turn out... wonder if they'll look like this again?
Still have the kitchen window box, but we added two planters on the fence this year. Really enjoying them so far.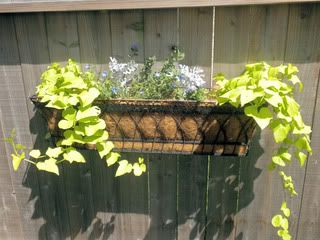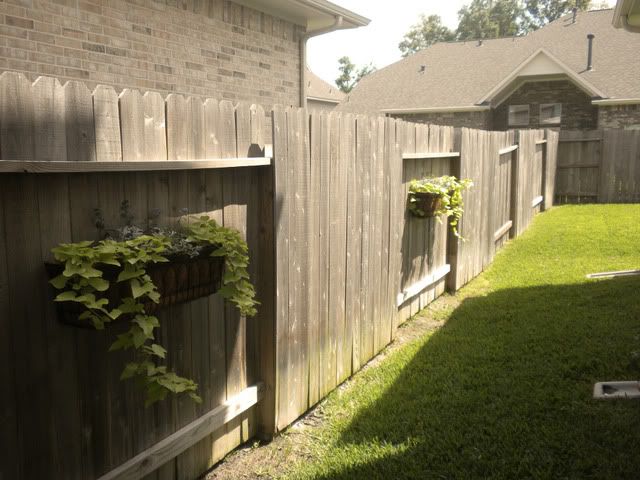 Have ferns again on the patio like last year (I've seen a pair of finches scoping out one of the ferns for nest building I think)! Got a pretty new hummingbird feeder and tried out different places, but they really like it hanging from the fern. So there it stays my feathered friends!!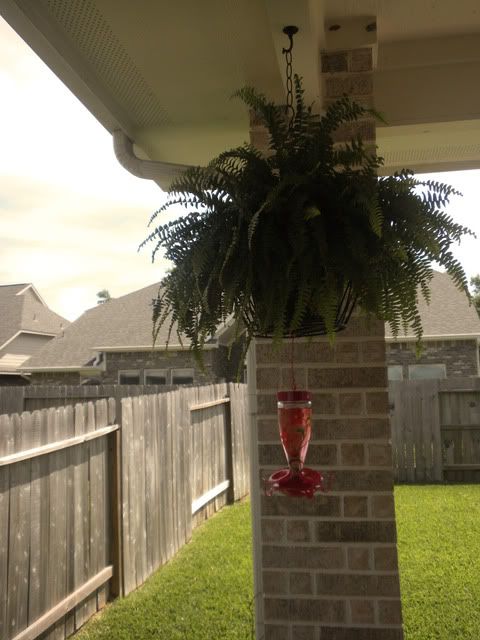 I love how this little "vingette" of pots turned out...
and look theres a fat cat in the window! Hi Calamity!
That watering can pot is one of my favorites!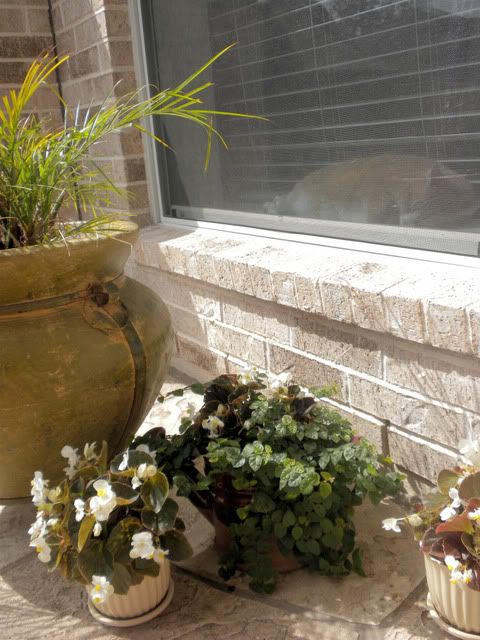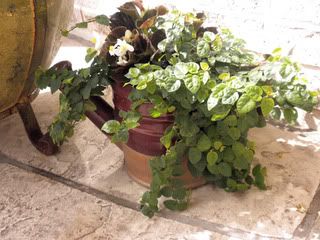 Trying my hand at some vegetables & herbs this year. I'm sure I'm breaking every rule in the gardeners handbook... but so far I have tomatoes & parsley (there's also a cucumber plant in that pot - yes I know - I DID say I was breaking all the rules) in one pot and
my little thing of basil & chives that Jake helped me with one day
. Basil looks good, not sure about the chives.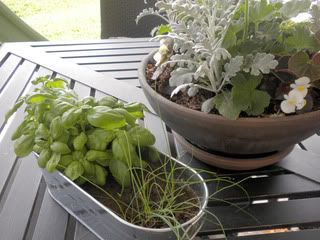 Oh and last but not least... Greg's baby... the lawn....
Thanks for joining me in the backyard! Amazing thing is there's a million toys out here too (and a HUGE box the boys have been playing in) and I was able to avoid them in my pictures ;) Maybe next time we'll make some sun tea (everyone has their own special 'recipe') and enjoy a glass!