So this foyer has taken awhile... but I do believe I'm done. Okay, I want more little thing... but I swear, I'm done.
It even looks a lot like my original sketch in my first foyer post, no?
We've slowly added to it, like the mirror, then the bench, rug, and lastly the sign & coat rack (click on each pic to link back to its post).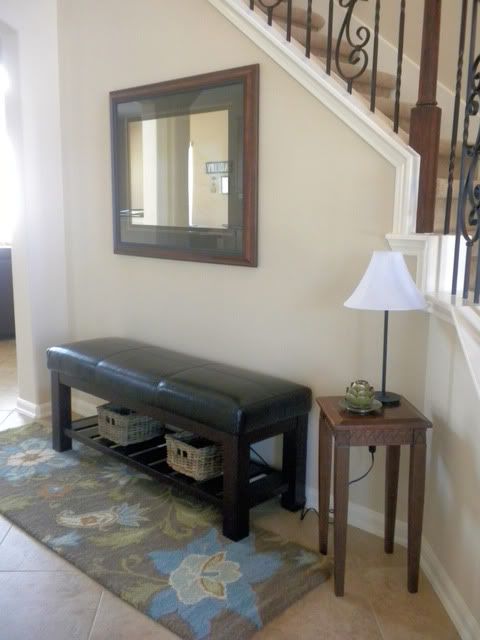 The sign was from the ole Hobster Lobster, it was $17.99 for 50% that day, snag it right up. But with our walls being beige (and no, we're not painting we could get transferred anytime and these are 2 story walls we're talking about) I wanted just a smidge more color to it. Project time!
I just used Robins Egg Blue acrylic paint & a cotton ball ( I know so technical & fancy... but a step up from when I used my finger to paint the cabbage!). Then randomly smeared it on, wiping off in some places, just leaving it in others.
So it helped add a little bit more color without covering up the phrases... wonderful phrases by the way.
Feeling very "family-y" after this summer and especially today. Today was Jake's Pre-K orientation... big man was so proud, happy and excited... and so were we! Greg & I are busting at the seams for him... he introduced himself to his teacher & assistant... found his bag, seat & cubby. I have butterflies for him... just wait until next Tuesday's post :)
Anyway... point of post...BEFORE:
And... AFTER: