When you move, it's rare that you actually move each room of your old home into the same exact room in your new home. Things get flip-flopped, switched, revamped, reused, painted or craigslisted (have lots of that going on too).
I first talked about these curtains back when we
Welcome to our Dining Room in our Virginia house...
How it looked on the market when we put a contract on it
This Dining Room is our main eating room. We don't all fit in our "eat-in kitchen area". Don't even own a table & chairs set that fit in there. Figure eventually we'll get a little small one (bistro like) that the big boys can sit at for breakfast/lunchtimes. Anyway... the big window is wonderful... but being in a fishbowl at night is NOT so wonderful. I started thinking and figured our old master bedroom curtains would work great!
Needed a new curtain rod, since we left the old one behind as to not have to patch and paint ;)
Went to Bed Bath & Beyond with all 3 boys one morning and got one that was long enough. I also forgot my 20% off coupon (kicked self in butt) and back home we went!
During the two youngers ones naps today, Greg got to work...
So did Jake...
Then so did I (they needed hemmed shorter).
I should of went back and read my own blog post
about when I hemmed them before
. I do believe I might of cut too much off! Oops! Nobody get these curtains dirty, I mean it ;)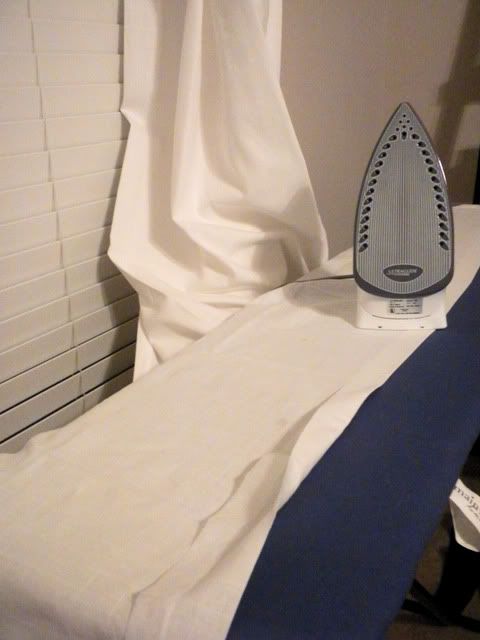 A funny thing... I was telling Greg I'll get around the the actually "hemming" (iron on hemming, woo-hoo!) Greg swears that we hung the curtains and I hemmed them all in the same night. Um, nope! The blog can prove it took me 2 months, so there! ha! They're up but will still need a night with me & the ole ironing board... once I find the hemming tape!
I think they really helped pull the room together!
Plus, we're no longer a fishbowl at night!
This room is almost DONE, which is something I cannot say about any other room in the house.

I did decide to hang them with the tabs this time rather than the rings. I wanted as much curtain length as possible to really help visually make the room look taller. But, in moving the curtains closed just for the picture, I found them not very easy to slide. That won't work since at bare minimum I'll be doing it at least twice a day everyday. Soooo... I might still end up putting the rings on... Greg will be so excited ;) Oooooh Hooooonneeeeyyyyy......