In moving I went from
this (post from when I rearranged the counters)...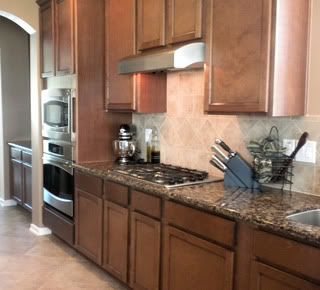 to this (it looked like more space until we moved in)...

pic from when house was on market
So scaling down & making the best use of space has been coming into play! Here's a few things I've done so far:
- sorted through what I have and only kept what I really needed in the kitchen
- hung up some command hooks to hold towels & pot holders
Also remember when I
reogranized my pantry in the old house?
Sigh, I miss that pantry!
Pic from when house on market... I have that bad boy stuffed right now!
Oh my! In an effort to make space I went to the handy-dandy Pinterest and saw an idea for putting wire baskets on the back of the pantry door to make more space! Done! I might even add one more set to the lower part of the door.
I have yet to actually organize everything and give everything a home. But at least I've made up for having many many less drawers & space. Now I can go from here.
Maybe it's given you an idea or two? I still have zero clue where to put the knife block... anywhere I put it, it just sticks out and takes up counter space! Do you store yours elsewhere? Ideas? I do need everyday access to it.