So for over a YEAR I've been wanting to start a sensory bin. Why it's taken me a year, I really have no good reason!
However, today I kicked off 2013 with our first sensory bin, Winter!
What IS a sensory bin? What's the point?...
click here for a great blog post about sensory bins
! There are tons of ideas out there, it can get a little overwhelming on narrowing down an idea! Here's a link if you're interested or to get the brainstorming started!
First since it's winter and my poor boys that have been in Texas (even though all were born up North) haven't seen snow! They're dying for some snow! I figured cotton balls would be best. Got two bags of 200 count cotton balls for $2 each at the grocery store. That's all I spent on this! The rubbermaid bin I have plenty of, have been getting rid of baby clothes left and right (expecting a nephew in Feb!) so I have empty ones. It's nice because that way I have a lid for it in between play times and for storage.
Everything else came from around the house. Have some neat things packed away that would of been great to of included, but I was not about to try to tackling THAT. Here's some of the stuff I started out with:
* Icicle ornaments (4)
* Some wintery figurines (penguins, dog on sled, etc...)
* Blue & white blocks, cups or rings
* A pair of mittens
* Snowflake cup, a kids mug (that they usually have hot cocoa in), silver measuring cups, and tongs!
* Snow themed Christmas card we've received
* Snowman pencil with fun eraser
* Snowy stickers to stick on stuff as they play
* An empty tissue box for stuffing cotton balls into
* Toilet paper tube that I painted white
* Polar Bear in Cave Toy
* Any books we had with a snow theme!
Obviously not all of it goes in the tub, but it's nice to have the books set aside to supplement. We actually read two of the books together yesterday once Jake got home.
I layered the cards on the bottom under the cotton balls

The finished product, ready for some play!
Then last but not least, I'm really excited about putting two ice packs into the bin to make things a little chilly! Fun!
Final result: Evan (4 years old) was THRILLED, but lost interest after 10 minutes (the tongs were his favorite). I highly suspect he's only 'lost interest' because I told him I put it together just for them - he's so anti sometimes!? Luke (19 months old) played and played and played (and is STILL playing)! Even Jake (6 years old) got in on the fun in checking it out (he liked the ice the best!).
I'm really happy to of done this and simply can't wait to change up for the holidays, seasons, or other fun stuff! I'll post it as we change it up over the year!
I decided to share over at my friend, Char's blog Adventures in Mommyland for
"Hey Mom Look What I Did!".
If you're visiting from there, hello!! :)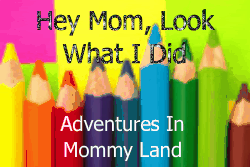 Was also just invited to go link up at
Itsy Bitsy Leaners for their Preschool PreKinder Nook.
I'm very thankful for the invite and hello if you're visiting from there!! :)