Today I'm rushing spring here in Virginia! I'm really REALLY over the winter. We're on a watch for one last snowstorm between tomorrow and Thursday. Gimme some warmth, please!
Looking back at a couple of past spring mantels from our time in Texas...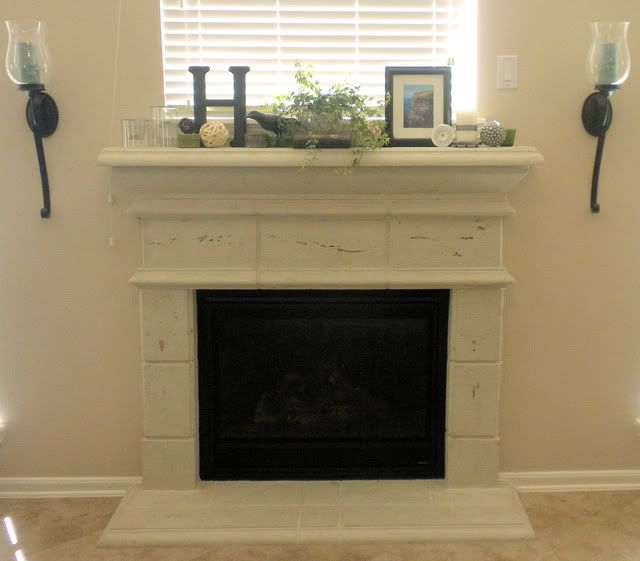 Early March Mantel 2011



I really wanted to do ours now. I just showed you my mess of a mantel last Thursday when I fessed up to messes and uncompleted projects.


So since today felt like an Arctic tundra outside (ok a wee bit of an exaggeration) and Monday's are always our short day (the school lets out early every Monday), I thought it'd be a good day to tinker around and put together a spring mantel.
Side tangent here: Here is our TV in this space. This is also the smallest room in the house, but we're here majority amount of the time since it's right off the kitchen. It's cozy :)
I noticed how the previous owners had it before we moved in...
Using a typical TV cabinet and TV, it makes the top of the TV the same height as the mantel. There's not enough visual variety it's like one big block. So not wanting the same look (this is the ONLY place for the TV to go as well) I searched a long time to find one that's a corner stand AND is taller. I think this might be the only one on the planet! Or at least it felt like that ;)
It now helps break up that visual block with varying the heights at that end of the room. Also I never blogged about it, but we did install glass doors to the fireplace. It keeps the fireplace smell at bay and it cuts down majorly on the draft that would of been coming down that chimney if it wasn't there!
Cute baby alert! Watching some Disney Junior after our chilly walk to the bus stop!
Back to the Spring Mantel...
Like I typically strive for, nothing was purchased. Although, I will fess up that the grapevine wreath in the middle I did purchase at the Target dollar spot in the fall. I just never used it. Today I just grabbed a cream ribbon and wrapped then tied it to the wreath! I like it all, glad I did it today... my personal welcome to spring... and my suggestion for winter to hit the road! ;)
"It is better to light candles
than to curse the darkness.
It is better to plant seeds
than to accuse the earth.
The world needs all of our power
and love and energy,
and each of us has something that we can give.
The trick is to find it and use it,
to find it and give it away.
So there will always be more.
We can be lights for each other,
and through each other's illumination
we will see the way.
Each of us is a seed,
a silent promise,
and it is always

spring

."